Taking some time to plan a weekly menu for your family can help save time and money in the long run. High protein ingredients may take a little extra time and care, but are worth the effort! Once a week take an hour or two to make a menu plan and include time to prepare foods to keep in refrigerated containers. For example, pop a roast in your slower cooker to shred and refrigerate when done. While your beef is slow cooking, use your instant pot to hard boil eggs and cook high protein grains like quinoa and wild rice. During the week your prepared proteins are ready to go and all that is left is adding some steamed veggies and fresh fruit.
30 Minutes or Less
Get the Recipes
Takes About an Hour
Get the Recipes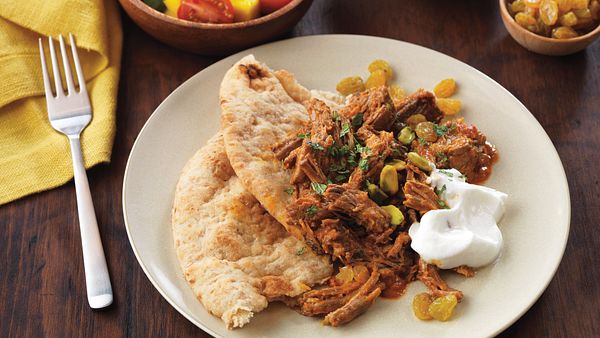 Low and Slow
Get the Recipes
BEEFitizers
Get the Recipes
Grilled Greatness
Get the Recipes
Kids and Kitchens
Get the Recipes
Family Friendly Beef Gyros
Setting up a slow cooker in the morning can mean coming home to a ready meal in the evenings. This method makes is easier to provide delicious, nutritious meals for your family. Registered Dietician, Kristin Althoff Russell suggests this recipe for Family Friendly Beef Gyros!
Beef Gyros ( Slow Cooker or Instant Pot)
Prep time: 15 min
Serves 4 Ingredients
2 lbs. Beef chuck roast sliced into thin, quarter inch strips
¾ tsp salt
½ tsp pepper
2 tsp garlic powder
2 tsp Italian seasoning
3 Tbsp olive oil
3 Tbsp lemon juice
½ small yellow onion, finely diced
Pita bread
For Garnish: Tzatziki sauce, diced cucumber, cherry tomatoes, thinly sliced red onion, spinach leaves
Trim beef roast and slice the meat into 1/4 inch strips. Season beef on all sides with salt and pepper and place in the bottom of the slow cooker or instant pot with diced onion. Add other ingredients and follow cooker instructions. Serve in warmed pita bread and garnish.